Shane H's 2006 Outback 3.0R Sedan
Member #9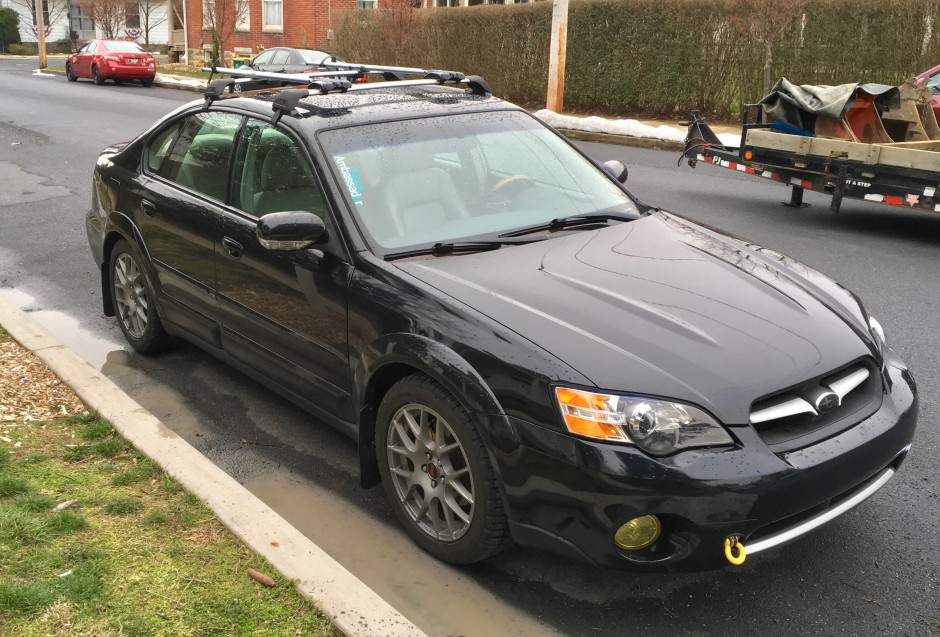 Car Description:
Lowered and luxury from the battle cladded Outback.
Engine: Samco Sport BLE intake, JDM Battery Cover, JDM Power Steering Cover, OEM GT Mufflers, Fumoto QwikValve...
Suspension: OEM Bilstein Suspension (Struts, Springs, Tophats), Cusco Type OS Front Sway Bar (ends painted grey), Tribeca FSB with Forester end links and Energy Suspension Bushings, AVO Rear Braces...
Lighting: 05 Legacy Headlights (black), Phillips Diamond Vision 5000k, Headlight Armor GT Yellow Fog Kit...
Interior: WeatherTech Floor mats, STi A/T Pedals...
Electrical, A/V: Subaru OEM P-204UH Head unit, AE64.com i85 Transplant Adapter (for Aux), Apple AirPort Express with USB power for AirPlay Audio, Kahtec Blinking Smart Stop Delay...
Exterior: Subaru JDM Spec B grille (Custom paint), Whispbar S6 Roof Rack (k165 fit kit), RockyMounts Tierod (Bicycle mount) x2, Subaru JDM H6 Badge, Red Taillight Overlays, RallyArmor UR Mudflaps (Grey Logo), DIY Front Tow Hook, Emblem Overlays (Matte Black with Charcoal Metallic Stars)...
Wheels, Tires, Brakes:Sparco Pro Corsa 17x7.5 +48, BF Goodrich G-Force Comp 2 A/S (225/50R17), Grimmspeed MCB, Yellow-painted Calibers...
Shane's Social Media Info:
-
http://www.facebook.com/shane.henry.52