Mach V Motorsports All-Subaru Autocross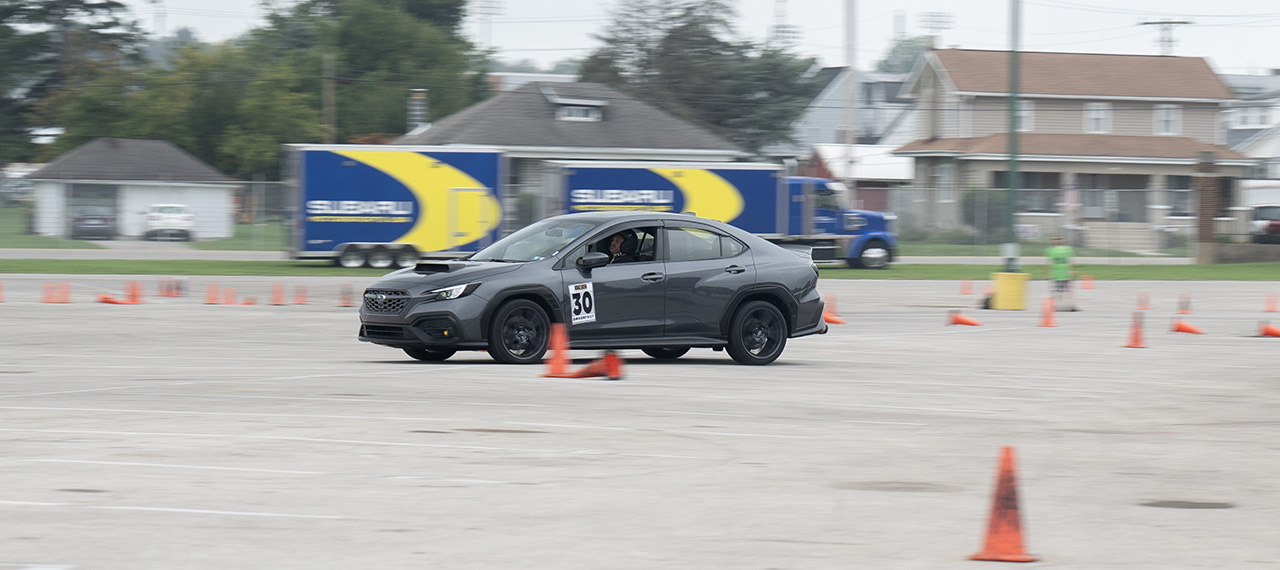 The Mach V Motorsports All-Subaru Autocross is an opportunity for you to test and dial in your skills as you try for your best time around our Subaru-in-mind designed course! Autocross events are safe, medium speed driving events for you to test the limits of your Subaru and gain valuable driving experience! One driver at a time negotiates a course laid out with the cones, or pylons, testing their skill against the clock. Time penalties are charged for disturbing cones.
Newbies are encouraged! Instructors available upon request!
Autocross Schedule (tentative)
- 7am - Autocross Gate & Paddock Open
- 7:30am - 8:30am - Registration & Tech
- 8am - Autocross entrance CLOSES
- 9am - MANDATORY Driver's Meeting
- 9:10am - 11:10am - Autocross Runs
- 11:30am - 12:30pm - Driving Demo / Lunch
- 12:45pm - 2:45pm - Autocross Runs
- 3:30pm - Awards @ Info / DJ Booth
*Cars will be run in run groups to allow competitors a chance to check out the rest of the event
Autocross Classes (tentative)
Non-Turbo AWD: naturally aspirated Subarus not including the BRZ
Turbo Stock: stock or lightly modded Subarus, treadwear 200+ tires, VF series turbos, and full interior and trunk required
Turbo Modified: upgraded turbos above VF, treadwear 199 or below tires, engine swaps, coilovers
RWD Stock: stock or lightly modded BRZ/FRSs, treadwear 200+ tires, and full interior, trunk, and spare tire required
RWD Modified: forced induction/engine swaps, treadwear 199 or below tires, coilovers
*Classes with fewer than 5 entries may be combined. Tech inspectors are there to ensure safety of the cars, not enforce classing. If you think a competitor is mis-classed, please protest before the end of the event!
Awards for Each Class
- 1st Place: Prize: $50 Gift Certificate to Mach V Motorsports and a Trophy
Registration
You'll need to sign up in advance and start by purchasing a ticket to the event. From there, you can add an autocross registration. You'll also need to be 18 or older with a valid driver's license. Numbers will be assigned upon arrival and cars may be required to install a branded windsheild vinyl and/or number plates.


No Work Assignments!
Unlike most Autocross formats, we'll have staff so you don't have to work when you're not running. This way you can enjoy the event!


Preparing Your Car / Tech Inspection
Remove all loose articles from the interior of your car! At the "tech" area, you will be asked to open the hood, trunk, and interior of your car for the Tech official's inspection. They are here to make sure that all cars competing are safe. They will inspect your tires for adequate inflation pressure and tread depth, your wheel bearings for wear, check that your battery is secure, throttle return springs for return, etc. If the tech officials are satisfied with the safety of your car, your time card will be initialed. NO FLUID LEAKS! No loose seats. No frayed seat belts! Helmets are required, must be SA2015 or SA2020, and are subject to inspection. No passengers allowed.



To pre-reg, start by purchasing a ticket here. After you've selected your admissions ticket you can add an autocross registration to it. This will definitely sell out, so plan accordingly.