Jeff R's 2005 Legacy GT limited
Member #22025 :: Car Show Entry (Best Legacy & Outback 00-present)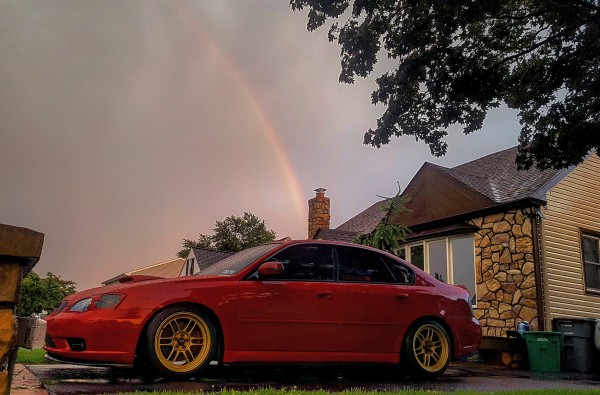 Car Description:
Mommy's Ruby Red Slipper
Our story started a long time ago...
but I'll save that for the book!
----------------------------
This car is in dedication to a woman like no other, my mommy, my daughter and my son's mom mom, my sisters and my brothers mother, and a mother to so many others that she cared for.. cousins, friends, girlfriends and boyfriends... this woman opened her heart to so many people.
We lost her December 27, 2016 and it feels like yesterday..
Since that day I've noticed while watching TV just about every show I was watching referenced The Wizard of Oz.. it was her favorite movie, every yr when it came on tv we all sat down to watch it, even when I didn't live there I would go.. (most of the time..) I should of been there more...
This car is my way of trying to create my own fantasy or dream.. which ever way you look it.
----------------------------
There are so many people that I need to thank for their time and the thought behind what they do.
I'll start with the guy I bought the car from, Erbin Carrera. On April 16 2017 I purchased a 05 legacy gt limited with no mods done to it but some Raceland coil overs. Best birthday present i bought my mommy.
The next person I wanna mention is the most important.. My son Joshua at 11 yrs old the first thing he wanted to do when we got back home was detail it and make it ours. He's got more wrench time on this project then I do. anything I can't do or reach he's got it! I couldn't have done this without him! I love you homie!!
So like most of us nothing stays stock for long.. I actually ordered the wheels before going to look at the car.. so they were already at home waiting to be installed. So April 17th we headed down to Jrads to roll the fenders to get some 17x9 esr wheels to fit. Now this guy I owe all my thanks too.. he's answered phone calls late at night opened his shop up for emergencies and has put in hours upon hours to get this project to where it is today. Jrads has been there from start to present day and has done everything from rolling the fenders, full exhaust upgrade to pulling and rebuilding the motor and adding his own touch to things to make them custom and different from others you may see. There's a few others that have been in and out of the shop like Baz and Derek that must be mentioned too!
One of the best things about owning a subaru is the people you meet along the way, I've owned other makes of cars and I've never felt as welcome by everyone like I do with other subaru owners. The other great thing about this world is learning while the process progresses.. I've learned a lot.. but more importantly my son who is now 14 is working in a mechanic shop daily and has already learned and done more things to cars then I ever did. I wanna mention Northern lights auto, Rob and Mike they have gotten me out of some jams and are always quick to help with any crazy stuff I throw at them. But everything they're teaching my son.. I appreciate that the most!!
Two well know tuner shops have seen this car Prime Motoring and Fast of West Chester. Both shops are full of good people and do honest stand up work!
As of right now what you're looking at in the car is a stock block with built internals machined and put together by BMS race engines and a vf52 turbo that has been ported and polished Billet 11 blade wheel by Hill Country Forced Induction and tuned by Fast of West Chester at 295 whp and 350 torque. The transmission is a built automatic done by IPT transmissions. The motor is in its final stage of the break in process.. what will the future bring... stay tuned... follow my ig: krippledsubicon
----------------------------
So let's talk about the theme, that's where the story really is..
We'll start with the exterior paint, It is the factory color actually just with a little gold flake added done by d&h truck refinishing, The idea is that it represents Dorothy's ruby red slippers.. yes in the movie the slippers were glittered with silver.. but my mom loved gold.. my mom also loved purple.. that explains the engine bay paint, done by Russo's Collison. The rainbow flake was added to represent "somewhere over the rainbow" obviously..!
The many decals you'll find randomly placed just help remind us of small details of the story. You'll also find a few jdm upgrades, On the front you have the jdm front grill with a grillcraft upgrade, a cyber R hood scoop and jdm headlight bezels. Watching headlights as we pass them are a nice set of jdm mirrors painted to match and also tinted to match the front turn signals and rear tail lights. On the back you have a sleek looking jdm carbon fiber duck bill painted to match but with a little message to tell.
Let's talk about Wheels.. or Shoes.. You can't go wrong with Gold RPF1s wrapped in Firestone firehawk summer tires bought and mounted by 3js tires. Also has Bc coil overs and white line sway bars and end links, aluminum control arms for our suspension.
I'll be keeping my eye on things with glowshift oil temp and pressure gauges, trans temp, wideband and boost gauges.
Some more upgrades include IAG tgv deletes with top feed conversion kit with Id1000 injectors. IAG aos, killer bee oil pan and pick up. Grimspeed tmic and cold air intake and up pipe. An invidia downpipe and MagnaFlow exhaust.
Custom shift boots made by msrabbitsshiftboots.
A nrg detachable hub with a viilanteusa suede steering wheel.
-----------------------------
So here we are at boxerfest.. Our plan here is to hopefully win best legacy gt.. That would be nice.. but more importantly we're here to tell our story and to meet as many new people as possible and grow our family!
Next in our agenda is to finish this break in period and get it retuned and possibly get it on a road course or two this season. I'd like to see what kind of times I can achieve..
In September we'll be driving to North Carolina to the "Wizard of Oz" theme park. I'd really like to get a few good pictures with the characters and hopefully Eben on the yellow brick road.. we'll see.
Follow us on ig:
krippledsubicon
abledsubicon
Thank you for all the love!!
« Browse More Enthusiasts