Dylan K's 2018 Impreza WRX STI Base, STI
Member #58349 :: Event Volunteer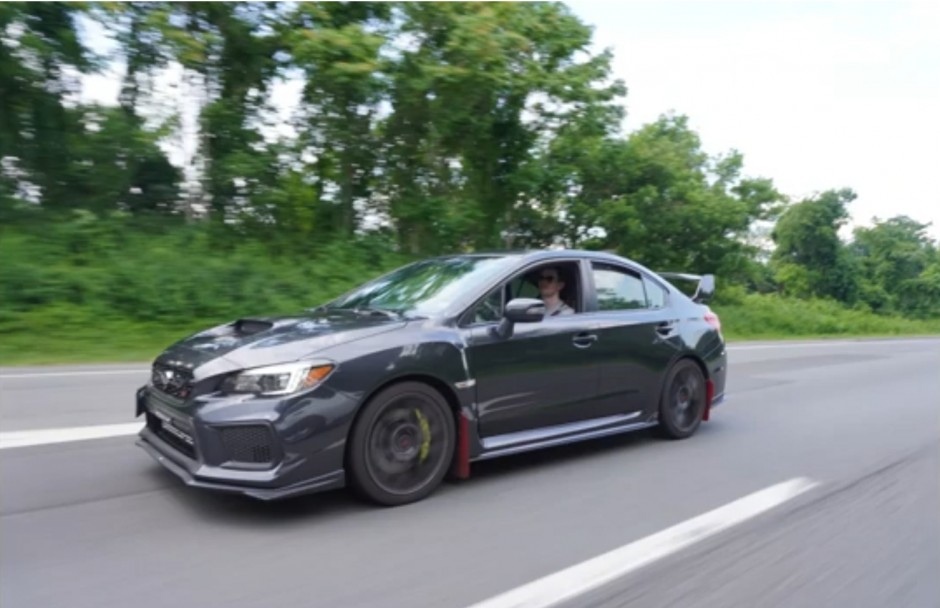 Car Description:
Stock block & turbo
Light modifications so far, mostly for "reliability":
IAG performance gen 2 AOS (street series-wrinkle red)
Killer-B 3 piece gen 2 kit: oil pan, pickup, baffle and Fumoto quick drain valve and retainer clip
Koyo alum. radiator and 1.3 bar cap
Grimmspeed 4"core FMIC with wrinkle red piping and coated black core also have wrinkle black crash bar
Visconti Tuning Speed Density Kit B w/ IAT sensor
iwire AEM X-line wideband AFR sensor (rear O2 sensor location installation)
Grimmspeed 3-port EBCS
Grimmspeed limited, divorced, catted downpipe (ceramic coated)
Nameless catback exhaust 5" mufflers 4" quad staggered tips
Innovate motorsports mtxd oil temp/pressure guage installed with prosport remote oil pressure sender kit
COBB LF bypass valve
TurboXS radiator stay (red)
Getadom cylinder 4 cooling Mod
Dress up/performance:
Compressive tuning smart flow radiator shroud (wrinkle black) and wrinkle red air blade heat extractors (I did drill out my fender vents and body"gills" so they are functional)
Verus engineering hood scoop block off plate (black)
Process west engine pulley garnish (wrinkle black)
OLM Night Bar F1style brake light (smoke lens w/ red bar)
Subiespeed turn as tail light with partial LED upgrade to keep reverse camera working (PITA)
Grimmspeed license plate relocation kit,
Torque Solutions pitch stop brace and mount (red)
Nameless strut tower brace (wrinkle red)
Kenwood Exelon DDX9906XR head unit upgrade with piano black surround to match interior dash (way better audio w/o upgrading any speakers-- had sub option in trunk from factory)
Rigid Industries 6" SAE SR series fog/driving light bars mounted above FMIC w/ use of GS 'Brotie' (modified) behind OE grill no trimming required. Looks good and hidden from view unless turned on and doesn't block FMIC.
I have but haven't installed yet:
Killer-B holy header with swaintech coating
Grimmspeed ceramic coated up-pipe (internally gated)
Radium Engineering FPR (Black),
COBB fuel pressure sensor and fuel rails, Grimmspeed stealth coldair intake (wrinkle red), COBB V2 turbo inlet w/ bypass, ID1300 top feed injectors with piggyback connections, AEM340 fuel pump, Verus Engineering hood louvers and hood pins for cooling, and Compressive Tuning Carbon fender vents.
I do as much as I can on the car and so far have been able to install and maintenance everything, only needing help with the stage 2+ tune from iaTuning (E-Tune).
Dylan's Social Media Info:
-
http://www.facebook.com/dylanfish.keen
-
http://www.instagram.com/flatfour18
Facebook Groups: