Boston Maler's 2002 Impreza WRX Full usdm 05 STi swp
Member #43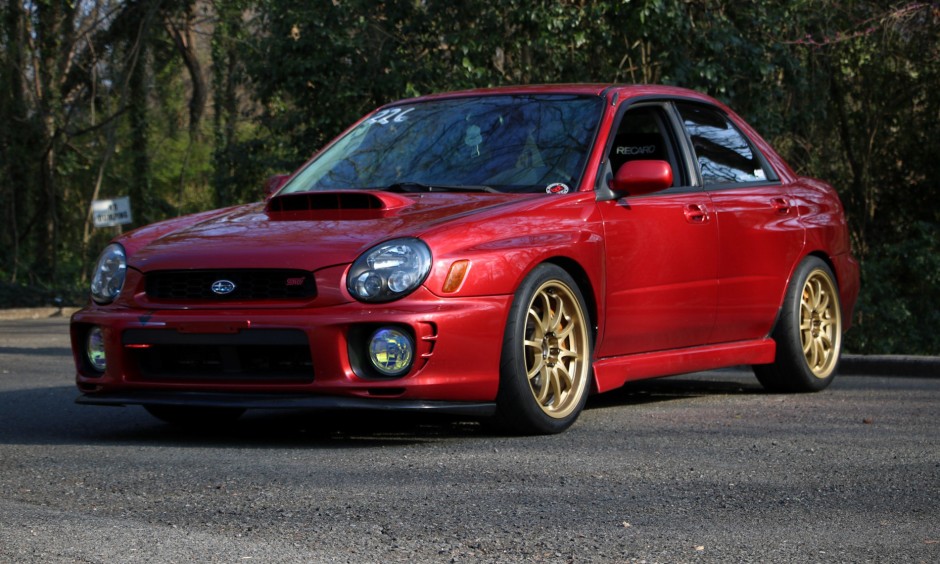 Car Description:
Complete AllProSubaru swap from a 05 STi. Everything has been pulled and then assembled on the 02 chassis. Suspension, dash, all wiring, tmic sprayer, rear glass, fuel tank, etc...
Engine/Fuel/Turbo -
-EJ257
-CP drop in forged pistons 9:1
-Injector Dynamics Fuel Injectors 1300cc w/ Top Feed Billet Fuel Rail conversion
-Injector Dynamics Side to Top Feed Conversion Fuel Line Kit
-Injector Dynamics Injector PnP Adapters
-Tomei Type S FPR
-Tomei Fuel Gauge
-255lph in tank fuel pump
-TGVs deleted
-3mm manifold spacers
-APS turbo inlet hard pipe
-APS fenderwell intake
-K&N RU-3130
-KillerB Ultimate oil pick up
-KillerB Windage tray
-JDM STi IC Splitter
-OEM STi TMIC water sprayer
-APS High Volume Twin Vent BOV
-Process West Black TMIC wrapped in Gold DEI heat tape
-Blouch Dominator 1.5XT-R 10cm Twinscroll 56mm Turbine
-High Heat Lava Turbo Blanket
-DEI wrapped downpipe w/ABA 316ss clamps
-Twinscroll JDM Spec C header/uppipe - reinforced welds
-Spec C Catless bellmouth downpipe for USDM catback exhaust
-Stromung 3 inch catback dual tip muffler
-ARP headstuds
-Prova AOS "Discontinued"
-Prova black faced oil cap "Discontinued"
-Samco radiator hoses w/ ABA 316ss clamps
-Moroso aluminum coolant expansion tank
-APS aluminum overflow tank
-Mishimoto aluminum radiator
-Torque Solutions motor mounts and pitch stop mount
-Omni 4 bar map sensor
-Grimmspeed 3-port Boost Solenoid
-Perrin Oil Cooler kit w/ DEI heat shroud around lines
-Removed factory oil cooler & plugged coolant port
-08+ wrx water pump
-NGK one step colder plugs #2309
-OEM magnetic drain plug
-Odyssey PC680 lightweight battery
-COBB Accessport V3 / Tuned by JR
-360whp/420tq on Topspeed motorsport's dynojet.
Transmission -
-2007 STi with 3.54 gearing, matching 2007 R180 rear differential
-All DCCD controls work like the factory setup on an 05 STi.
-DriveShaftshop 1-Piece Carbon Fiber Driveshaft
-Torque Solutions Trans mount
-SPEC Stage 3+ clutch
-Exedy 13lb lightweight flywheel
-GFB adjustable short shifter
-Kartboy front and rear shifter bushings
-Motul Gear300 75w90 in Trans/Rear Diff
-RBF600 Clutch fluid
Suspension/Brakes/Chassis -
-All of the suspension/steering components are 2005 STi, quick ratio rack, control arms, etc..
-Corner Balanced by Motorsport Connections in Winston-Salem, NC
-RCE Tarmac 2 Clubsport coilovers 2-way adjustable 600/500lb springs
-RCE Front & Rear spherical camber plates "New Design"
-Specs Street: Camber Front -2.5° / Rear -1.7° / 0° Toe
-Specs Track: Camber Front -3.3° / Rear -2.2° / 0° Toe
-Carlabs rear X-brace
-TIC Fender Braces
-Oswald Performance front bumper beam w/ tow hook
-Oswald Performance rear bumper beam w/ rennen tow hook
-Whiteline 24mm front sway
-Whiteline 27mm rear sway
-Kartboy front endlinks
-Kartboy rear endlinks
-Whiteline Steering rack bushings
-Whiteline Front roll center adjustment kit
-Whiteline Anti lift kit
-Whiteline Rear Diff support lock bushings
-Whiteline Rear Diff bushings
-Super Pro Front control arm bushings
-Beatrush Trans member bushings
-Kartboy rear subframe lockdown bolts
-MSI trailing arms 2" correction w/ spherical bearings
-Kaminari rear lateral links - race version w/ spherical bearings "Discontinued"
-Moog inner tie rod ends
-Stoptech SS brake lines front and rear
-Grimmspeed master cylinder brace
-RBF600 Brake fluid
-Redline Synthetic power steering fluid
-DBA 4000 T3 Front & Rear rotors
-Ferodo DS2500 Front & Rear pads
Dress-up/Interior/Exterior -
-Recaro SPG Profi XL driver's seat
-Recaro side mounts/sliders
-Planted base plate
-Schroth asm 4 point harness
-05 STi passenger seat
-ARC Alternator cover
-ARC Radiator shroud
-JUN radiator cap
-Project Mu Brake/Clutch reservoir caps
-Project Mu brake fluid reservoir sock
-Prova Carbon intake duct
-LNR Carbon ebcs cover
-Torque Solutions Billet Red Rad stays
-WC lathewerks ti burnt knob
-DAMD D shape wheel with red stitching
-SMY gauge pod
-Defi red boost gauge
-Innovate wideband
-STi Adjustable headlight leveler switch
-Auto dimming rear view mirror w/ compass
-OEM STi cloth mats
-Door cards are 05 WRX
-JDM v7 STi hood scoop and splitter
-JDM v7 WRX front grille
-JDM v7 STi matte black HID headlights w/ Lightwerkz plug&play harness
-JDM oem front aero splash guards
-JDM oem rain visors
-JDM v7 STi multi coat fogs
-Chargespeed Carbon brake ducts
-Professionally paint matched oem side skirts & splash guards
Wheels & Tires -
-Volk Racing Gold CE28N 18x9 +50
-Volk Racing GT center caps & Rays valve stems/caps
-Hankook RS3 255/35/18
-Project kics R40 composite lugs
-ARP extended studs
Boston's Social Media Info:
-
http://www.facebook.com/malerboston
-
http://www.instagram.com/@b_easynotsleezy
Facebook Groups: