Justin K's 2006 Impreza Limited Wagon STI
Member #43690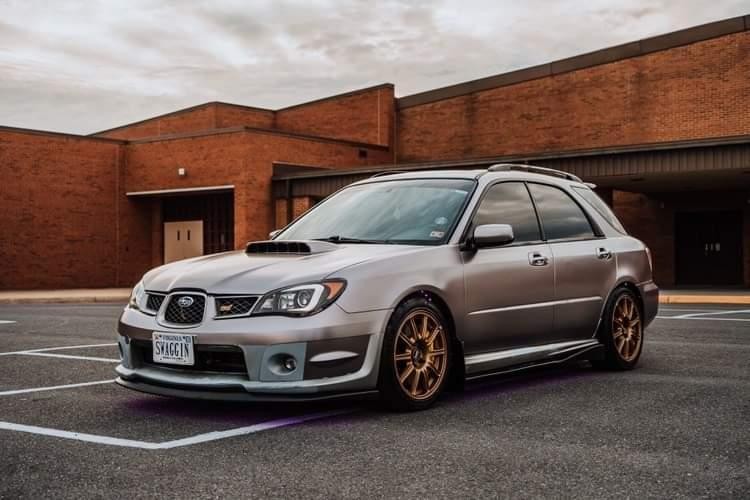 Car Description:
Registration 119
My Subies name is Liz and she is a 2006 Subaru Limited WRX Wagon. She is my daily driver. I bought a 2007 Subaru STI that was wrecked. I decided to make the Subaru STI wagon that Subaru should have imported.
I swapped everything over from the STI including the full harness (which was a pain because not only did I have to strip the interior but I had to depin and repin the wagon body harness into the STI harness). I even kept the OEM intercooler sprayer. Obviously I retained the nice STI dash pieces as well, but I did not use the blue interior as I think the black limited interior looked cleaner. I even swapped the fuel tank. The only STI parts I did not use was the seats, carpet, door cards, and obviously the wing
I haven't finished the swap, but it will be done in time. I go in for a tune at Moore Automotive on the 10th of September. As of September 1st, the only things left is put engine together, body work, and wrap. As soon as I get the wrap started and engine put in, I'll post more pictures.
This is my baby, and I have a lot done to her. All of the work has been done by me and my girlfriend Regan (she has a 2022 Subaru Legacy Limited XT!!!) Liz will be wrapped in Teckwrap Gunsmoke Grey with yellow accents (Brembos and intake manifold powder coated yellow among other things). There are a lot of little things that make this a one of a kind build. IE, suspension parts are POR15'd, harness is wrapped in Tessa tape, etc.
Other notable things I have done: provo mirrors, JDM auto folding mirrors (that was a pain to get to function correctly with key fob) 2012 STI steering wheel with all buttons functioning that make her 1 of a kind.
I plan on having a poster and everything showing the process of rebuild if I am accepted to display with the car. A lot of blood, sweat and tears went into this build. Maybe not the most power, but she is a daily driver. If you want to see more, you can check out my Instagram @stoic.gearhead
It's all under highlights.
Here is a complete mod list:
6k miles: Nitride Crank, NPR replacement pistons, original Rods, King bearings, rebuilt vf39 (new OEM center section)
New head rebuild: GSE valve guides, GSE oem replacement valves
Engine: Id1050x injectors, tomei expreme equal length, Perrin Inlet, act extreme duty street clutch, streetlite flywheel, Goodrich SS clutch line, aig v2 TGV deletes, grimmspeed ebcs, turbo xs topmount, Tial Q BOV, killer b pickup and baffle, arp headstuds, torque solutions egr blocks, outfront Motorsports fuel rail, turbo smart FPR, AEM fuel pressure sensor, AEM IAT, DW300 Fuel pump, getadom cooling mod, cobb CAI system, Cobb catted turbo back, Cobb AccessPort Speed Density Hybrid Tune by Moore Automotive, kartboy shortshifter and poly bushings, Perrin AOS, GetADom Cooling Mod, Group N Motor/Transmission Mounts, Mishimoto Radiator
Suspension: BC BR Coilovers, whiteline 24mm Adjustable front/rear swaybar kit, whiteline Front and rear poly bushings essentials kit, whiteline center roll kit, Kartboy Rear subframe lock down bolts, Fender Braces, Goodrich SS brakelines
Interior: Innovate gauges: AFR, EGT, Oil Pressue/Temp, Ethanol Content
Justin's Social Media Info:
-
http://www.facebook.com/JayKatz
-
http://www.instagram.com/@stoic.gearhead
Facebook Groups: