Brian L's 2013 Impreza WRX STI Hatchback
Member #34482 :: Car Show Entry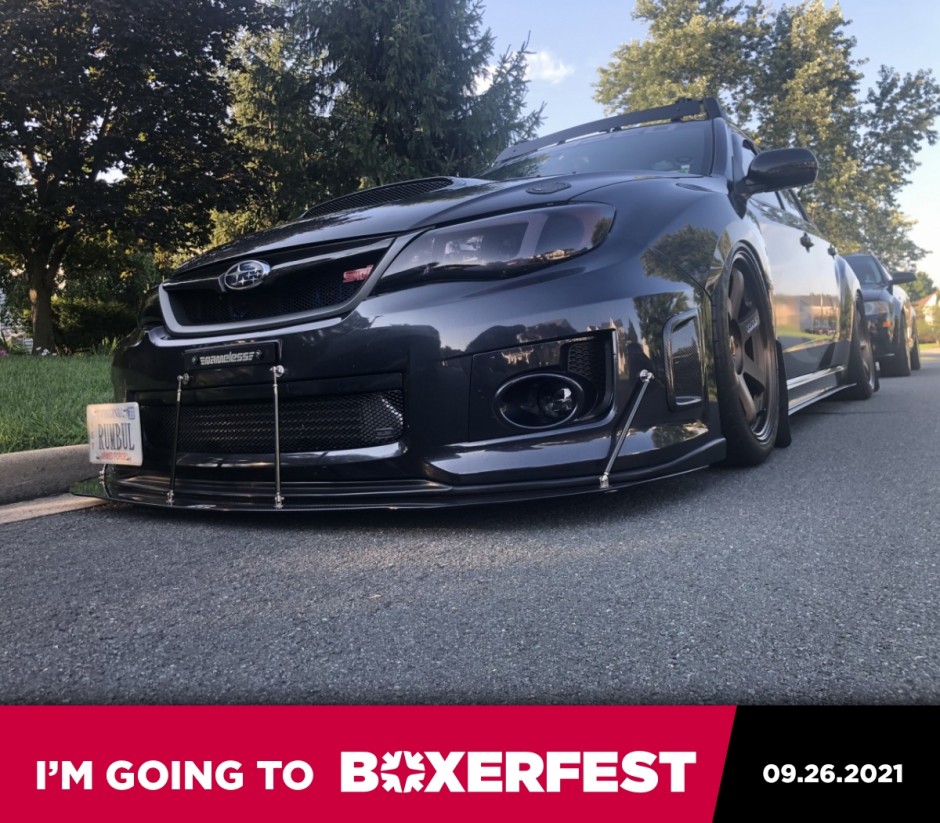 Car Description:
Highlights include over 700AWHP via a fully built motor with Borg Warner EFR 8374 twin scroll turbo, 2,000 cc ID injectors, Cobb flex fuel, and supporting mods, Full Race header, twin scroll up pipe, and down pipe. Nameless Cat back exhaust with 4" polished tips. Full Air Suspension. Drive shaft shop carbon fiber drive shaft. CAE shifter, Full set of AEM and Perrin Gauges.
Short Block Components:   
Custom Machine Work and Short Block Assembly  Completed by AR Fab
Darton Ductile Iron Dry Sleeves with Copper O-rings
Line Honed
Debured
Balanced / Blue Printed and Clearanced
Coated ACL Bearings
Manley Billet Crank
Manley I-Beam Turbo Tuff Rods
Manley Extreme Duty Pistons with Coated Side Skirts
14MM Head Stud Conversion.
INCONEL 718 ARP Case Bolt Kit
Heads:   
All Custom Machine Work Completed by AR Fab
Full recondition & Sonic Cleaning
Bronze Guides
Bowl Blend
Pocket Porting
Ferrea comp plus intake and exhaust valves
Ferrea springs
Ferrea retainers
Ferrea viton seals
Ferrea billet locks 
GSC 272 Billet cams
Heads Clearanced for cams
14MM head gaskets
14MM ARP Head studs
Engine Accessories:
Engine Build  and custom work Completed by Sweeney Built LLC
Process West Street Intake
Boomba Racing 75mm DBW Throttle Body 
Boomba Racing 75mm DBW Throttle Body Adapter
GrimmSpeed Alternator Cover Brushed Stainless
SteelDenso Iridium Power Plugs
Okada Projects Plasma Direct Coil Packs
Okada Projects Plasma Spark Plug Boots
SuperStik Precision Dipstick Special Edition
AEM Electronics Intake Air Temperature Sensor
Aluminati Air Pump Block Off Plates
IAG  Aluminum Top Feed TGV Deletes
Killer B Motorsport Oil Fill Relocation Tube
GimmSpeed Delrin "Cool Touch" Oil Cap Version 2
Aluminati Coolant Expansion Billet Aluminum Tank
Greddy 3 Port Boost Controller
Killer B Oil Pan
Killer B Oil Pickup Tube
Killer B Air oil Separator
FUMOTO F105N Engine Oil Drain Valve  
Cusco Magnetic Oil Drain Plug
IAG 8mm Thick Phenolic Intake Manifold Spacers
Fluidampr Subaru EJ Series Steel Internally Balanced Damper
Torque Solution Engine Mounts
Torque Solution Pitch Stop Mount 
MISHIMOTO MMOP-SPT Thermostatic Oil Sandwich Plate  
Radium Engineering 18-0016-A11 Radiator Caps
Custom Vacuum and Water Line Nylon Braiding
DEI Gold Heat Shielding
DEI Tubing Heat Shielding   
Turbo & Exhaust:
Borg Warner - EFR 8374 w/ 1.05 A/R   & external waste gates
Custom Built 4" Intake Tube
K&N Airfilter
Process West Front Mount Inter-cooler  
Custom Built inter-cooler sprayer
Intrcooler spray duration via adjustable relay activated by shifter knob switch
Full Race T4 Housing with with 2000°F Ceramic Coating 
Full-Race Lower Manifold with 2000°F Ceramic Coating  
Full-Race Subaru T4 Twin Scroll Up-Pipe with 2000°F Ceramic Coating  
Full-Race Subaru T4 Twin Scroll Downpipe with 2000°F Ceramic Coating
Nameless Hatch Back Quad Tip Catback Exhaust with 4" Double wall tips
Header and down pipe Titanium Heat Wrapped 
PTP Lava Turbo Blanket
50MM  TiAL Q BOV
Twin TiAL 38mm Wastegates 
Fuel System:
Radium Engineering Top Feed Fuel Rails 
Radium Engineering Fuel Pulse Dampeners
Injector Dynamics 2000cc fuel injectors
Injector Dynamics Inline Fuel Filter F750
Cobb Tuning Flex Fuel Package
Aeromotive 340LPH In Tank Fuel Pump
Turbosmart FPR-1200 v2 Fuel Pressure Regulator
FUELAB 828 Series inline fuel filter  
IE 2.3 Liter Dual Fuel Pump Surge Tank Kit
Two (2) AEM ELECTRONICS 50-1005 High Flow In-Tank Fuel Pumps
Custom made to length Super-Flex Braided PTFE Fuel  Hoses  
8 AN  Feed and 6 AN Return Lines 
Cooling:
Ron Davis Aluminium Radiator with built in oil cooler
Custom made to length Super-Flex Braided PTFE Oil Lines 
Killer B Motorsport High Flow Water Pump Housing
Grimspeed Silicone Hose Kit
Vibrant Coolant Hose T-bolt Clamps
Perrin Performance Coolant Hose Adapter
Mishimoto Aluminum Radiator Stays
RYANSTAR Radiator Coolant Tank 800ml  
Brakes:
EBC Yellow Pads front & Rear
EBC Slotted and DImpled Rotors front & Rear
GoodRidge G-Stop Stainless Steel Brake Lines Front/Rear
Boomba Racing Brake Cooling Deflectors
PERRIN Master Cylinder Brace
Motul RBF600 Brake Fluid Synthetic DOT 4 
Suspension:
Airlift Performance adjustable front and rear Struts
AIrlift 3P/3H Upgraded Control System
Super Pro Front and Rear End Links
SuperPro Front & Rear Sway Bar Kit (24mm Front / 22mm Rear)
Godspeed adjustable rear lower control arms 
Godspeed adjustable rear toe arms  
Driveline:
CAE Billet Shifter
Driveshaft Shop 1-Piece Carbon Fiber Driveshaft
Competition Clutch Stage 3 Multi Plate Twin Organic Clutch Kit w/Flywheel
ACT Pilot Bearing
Torque Solution Clutch Master Brace 
Torque Solution Transmission Mount   
Gauges:
Cobb Access Port
Perrin Oil Pressure Gauge Imperial 60mm
Perrin Water Temperature Gauge Imperial 60mm
Perrin Oil Temperature Gauge Imperial 60mm
AEM Boost Gauge 50psi Digital 52mm
AEM UEGO Wideband Controller AFR Gauge 52mm
Body:
APR Carbon Fiber Front Wind Splitter
Custom Splitter Supports
Password JDM Carbon Fiber Side Splitters 
Versus Engineering Rear Diffuser 
JDM Genuine STI Subaru Door Handle Protective Film Kit
Torque Solution Rear Tow Hook
TAKATA Front tow strap
GrimmSpeed License Plate Relocation Kit
APR Carbon Fiber Hood Vents 
Carbon Fiber Hood Scoop  
Carbon Fiber Fuel Door Cover 
Carbon Fiber Door Pillar Panel Covers
Carbon FIber REAR BUMPER Aprons
Carbon Fiber Front Bumper Ducts
Carbon FIber Front Grill Bar covers
Carbon Fiber radio antenna
Carbon Fiber Door Pull Protectors 
JDM Speed Aluminium Fender washers
OEM WRX STi Side Molding Fender Emblem SET Black w/ Red 
Aerocatch Hood Pins Locking Kit
C-Shape OLED Tube" Headlights Lamps 
Spyder Smoked LED with Sequential LED Taillights
Custom Tinted Turn Signals in Mirrors  
GrillCraft Hood Scoop Grill
KS Tech Hood Scoop Block Off Plate
GrillCraft Front Upeer Grill
GrillCraft Front Lower Grill 
Custom Subaru Logo Appliques
Carbon Fiber Wrap
Tinted Windows
Wheels & Tires:
18x10 +41  Volk Racing TE37s in Original Bronze
265/35 Toyo Proxes R888Rs 
Custom Made Bronze Center Caps fitted with Factory STI centers
Interior:
FTDCARBON Flat-bottom Leather Steering Wheel with Red Stitching
Custom Leather Ebrake Boot with Red Stitching
Custom Dual Gauge Pod 52mm(OEM)Top Cluster Trim with Flocking  
ATI Center Gauge Pod with custom Flocking
Dialed Mounts Dock Mount for Cobb AP  
Diamond Leather Floor Mats
Cup Holder Hero Custom Liner Accessories - Premium Inserts - 15-pc Set 
Miscellaneous:
Odyssey Lightweight Battery w/ Terminals
Chase Bays Power Steering Kit
Hella Supertone Horns w/Grimspeed wiring harness
Morimoto XB LED Fog Lights
Factory Subaru Luggage Racks with custom wrap on cross bars
Custom "Waving" Hangloose Rear Wiper Delete
Nameless Billet Aluminum License Plate Delete
Brian's Social Media Info:
-
http://www.instagram.com/Bad_Daddy_Brian
Facebook Groups: