Kyle W's 2002 Impreza WRX Impreza
Member #34412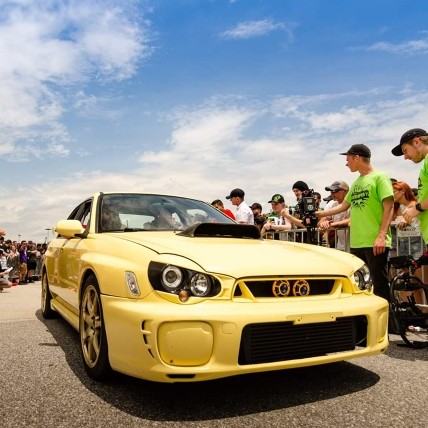 Car Description:
02 WRX blaze yellow 1 of 400 this color. It has a built engine. The block has forged CP pistons, turbo tuff rods and nitride crank. The heads have BC 280 cams with all supporting valve train upgrades for larger cams. Tgv deletes with ID 1050 injectors and parallel fuel lines. The rotated turbo is a Treadstone kit with a gt3582r turbo and a Tial 44 mm wastegate. I have rotated the intake manifold and it lessened the amount of intercooler piping with the use of a front mount. It has a Turboxs intercooler core. I built this motor by myself in my basement. Still has a 5 speed but has been slightly upgraded with 08 wrx gears and blast plates. As far as exterior modifications it has oriciari bumper vents, morette head lights, tail lights, rear window visor, carbon hood scoop
and Motegi mr 118 wheels.
Interior mods are a harness bar, prodrive gauge cluster, short shifter and yellow accents. It also has a quick disconnect steering wheel with an NRG hub and a NRG wheel. This car is the one that Boxerfest has been using for advertisements. Thank you for that.
Kyle's Social Media Info:
-
http://www.facebook.com/Kyle wright
-
http://www.instagram.com/Karl_drives_subarus