Special Features :: 2011 WRX STI Isle of Man Record Setter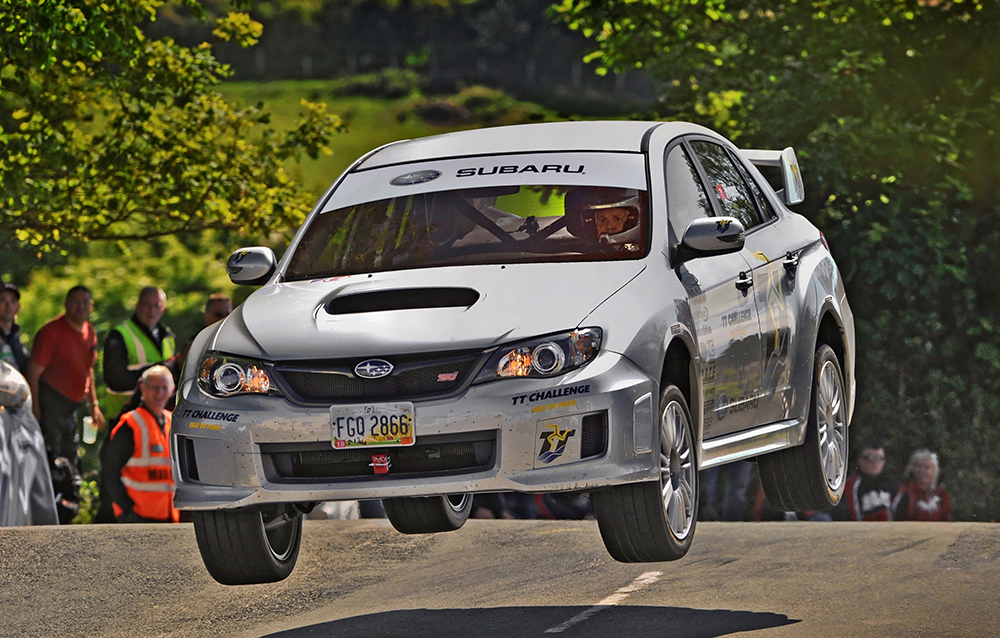 About the 2011 WRX STI Isle of Man Record Setter:
This 2011 WRX STI, piloted by racing legend Mark Higgins to an Isle of Man TT course production-car lap record, began its life as a U.S.-spec production WRX STI. The vehicle is powered by a 2.5-liter DOHC intercooled, turbocharged aluminum alloy 4-cylinder SUBARU BOXER® engine producing 305 hp and features a 6-speed manual gearbox sending power to all four wheels. Mark Higgins, brother of Subaru Rally Team USA driver David Higgins, used the vehicle to break a twenty-year-old lap record for cars at the Isle of Man's fearsome 37-mile Snaefell Mountain Course, usually reserved for motorcycle racing. This car was the first in a line of what is now three consecutive record-breaking efforts with WRX STI models at the Isle of Man; Higgins would break his own record using a near-production 2015 WRX STI in 2014 and set a new standard in June 2016 with a fully race-prepped WRX STI.
In order to be deemed safe for the narrow and tricky Isle of Man TT course, the vehicle was equipped with a Lifeline fire suppression system, Hockley Motorsports roll cage, Motordrive competition seats, Mintex brake pads, and a louder open exhaust. Suspension additions were Tien springs and dampers to handle the bumpy road circuit and street-legal Pirelli P Zero Trofeo tires. Aside from setting a new record at an average speed of over 115 miles per hour, Higgins also displayed amazing driving skills: with the extra weight of a journalist in the car for his record run, a bumpy section near Bray Hill caused the car to bottom out and begin to slide at 150mph, resulting in a spectacular save that Higgins called "the biggest moment of my life."