Bryan P's 2002 Impreza WRX
Member #19097 :: Car Show Entry (Best Impreza/WRX 02-03)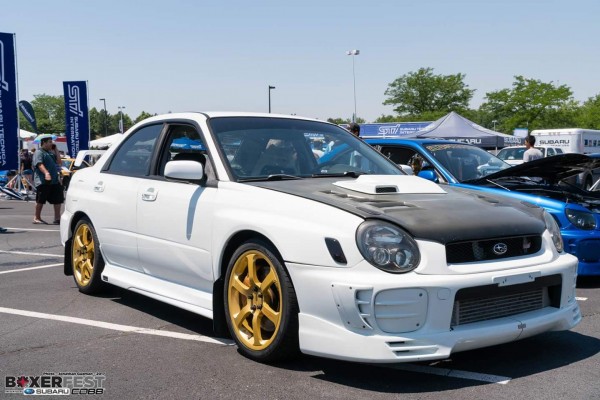 Car Description:
Engine/Drivetrain: SPT intake, Zero/Sports after MAF, SAMCO turbo inlet, Momentum EJ5-40T turbo, AMR Automasters UEL headers, GT-Spec up-pipe, Deatschewerks 1000cc injectors, IAG Billet fuel rails, HyperFlow FMIC, 2004 STI 6MT/R180/Brembos/etc
Exterior: JDM STI v2 front lip, Orciari fog light covers, Orciari side vents, JDM STi grill, JDM STi black chrome HID headlights, custom tinted side markers, Kaminari side skirts, 2006 STi rear bumper and tail lights, JDM STI Spec-C Type RA-R Aluminum trunk lid, Mines lip spoiler, JDM STi S203 wing, Mature Japan carbon diffuser.
Interior: JDM STI "Option" seats, WR1 non-DCCD Prodrive gauge cluster in MPH, WC Latheworks shifter extension, Tommy Kaira heavy baby shift knob #30/100, custom hydro-dipped trim, 06 WRX TR center console swap, Kenwood stereo.
Suspension: Bilstein PSS9 coilovers, whiteline front strut tower brace, Oswald Performance rear triangle brace, Cusco front and rear sway bars with whiteline solid end links.
Wheels/Tires: Tommy Kaira Pro-R 18x8 with 245/40 Pirelli P-Zero
Bryan's Social Media Info:
-
http://www.facebook.com/byPr0dvct
-
http://www.instagram.com/byPr0dvct
Facebook Groups:
« Browse More Enthusiasts