Chris Racklyeft's 2014 Crosstrek Premium
Member #5525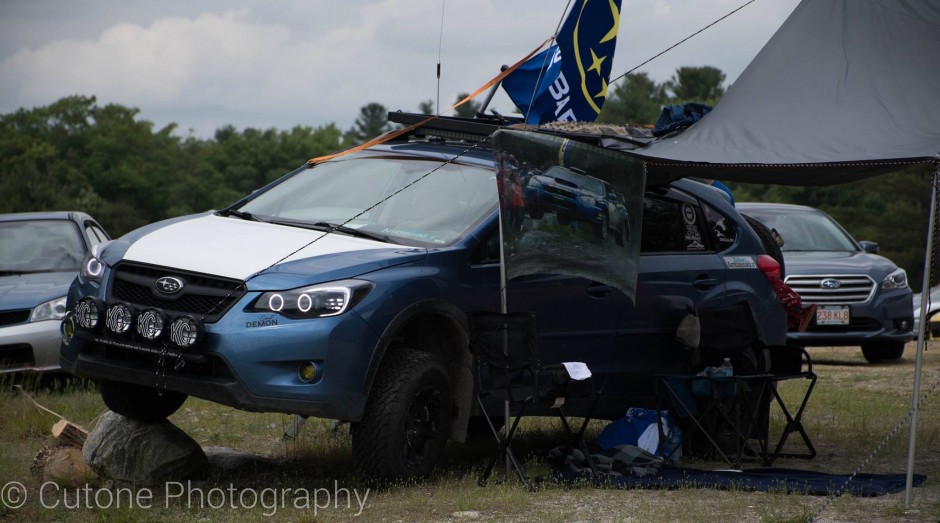 Car Description:
This is Growler the XV, hailing from SE Michigan, it's my daily driven offroader, I have it offroad typically every other weekend and it sees dirt every day. It's been flooded to midway up the seats, pushed to various limits, and still gets me home at the end of the weekend. I test various types of vinyl on it so see what works and what doesn't. This vehicle has been nothing but a learning experience for me.
Major Items include:
2"F 2.5"R Anderson Design & Fabrication lift
Primitive Racing Skidplates (Front, Mid & Rear)
Front Runner Outfitters Slimline II Platform
KC HID lights (spots and retrofitted fogs)
Circuit Demon Custom Quad HID Retrofitted headlights
Modified Wilco Hitchgate Solo
EcoHitch Invisi
Borla Exhaust
Method 502 VT-Spec wheels wrapped in 215/75R15 General Grabber AT2 tires
SSD front light mount
SSD Strut top brace
DEPO Full LED Taillights
Diode Dynamics LED Lighting Inside
Rear Hatch lighting
Rear Hatch mounted Roadside Assistance bags
Paracord wrapped steering wheel
Braxton Baker's Adjustable quick disconnect endlinks
STI Rear Sway bar (disconnected for off-roading purposes)
Front Runner Outfitters Modular awning
I get asked a lot about Greek text across the recoated SSD bar, it translates to "And the light shineth in darkness and the darkness comprehended it not."
Chris's Social Media Info:
-
http://www.facebook.com/Rcklyft
-
http://www.instagram.com/@GrowlerXV